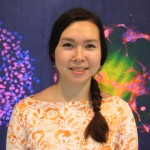 Graduate Student
BS, Chemical Engineering
Columbia University
ehyee@mit.edu
Research
My research focuses on point-of-care nucleic acid assay diagnostic devices for infectious diseases, such as tuberculosis. Infectious diseases disproportionately affect people in income- and infrastructure-limited areas, and in order to address these diseases effectively, quantitative diagnosis must be made attainable in these conditions. The goal is to develop highly effective, low-cost diagnostic devices utilizing polymerization-based signal amplification that require minimal resources.
Publications
David M. Dellal, Emma Yee, Shefali Lathwal, Hadley D. Sikes and Jose Gomez-Marquez. "A low cost plug and play photochemistry reactor," HardwareX, 2018, 3: 1-9.
Emma H. Yee, Shefali Lathwal, Pratik P. Shah, Hadley D. Sikes. Detection of biomarkers of periodontal disease in human saliva using stabilized, vertical flow immunoassays," ACS Sensors, 2017, 2 (11): 1589–1593. DOI: 10.1021/acssensors.7b00745.