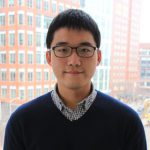 Graduate Student
Korea University, BS
Chemical and biological engineering
sjmoon@mit.edu
Research
I aim to develop novel biosensors for the application of metabolic engineering.
Publications
Troy F. Langford, Beijing K. Huang, Joseph B. Lim, Sun Jin Moon, Hadley D. Sikes. "Monitoring the action of redox-directed cancer therapeutics using a human peroxiredoxin-2-based probe," Nature Communications, 2018, in press.